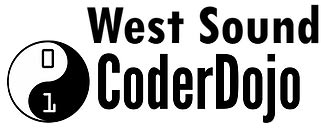 We are excited to announce the first CoderDojo in Allyn!
CLICK HERE FOR EVENT REGISTRATION
Logistics  — Port of Allyn
Please do not wander the property or building.
No drop ins. Please let family and friends know they must register even if they are only coming for a short time. This is important for liability and security reasons.
Top bullet points about Coder Dojo
Suggested Ages: 4 – 18. Skill Levels: All. If a child is younger and interested, please register and bring them!
Students and Parent/Guardian (or Volunteering Parent) must both register. NO EXCEPTIONS.
Parent/Guardian must remain throughout the class. It's a great opportunity to learn with and/or help your child.
Bring a laptop. You can bring a tablet but some content will not run on them.
Familiarize yourself with the Guiding Principles of CoderDojo. Kids will enjoy the experience if they (and parents) understand it's not a race or competition.
Avoid last minute cancellations or no-shows. Common courtesy is appreciated, especially with limited space and waitlists.
We are unable to cancel or update your registration. Eventbrite is a self-serve tool. To cancel your own registration, search for your ticket in your inbox, then click "Manage Order".
Have fun and Be Cool!!!
FREQUENTLY ASKED QUESTIONS
WHAT IS WEST SOUND  CODERDOJO?
It's a coding club where kids ages 7-18 can learn the skills to make computer games and other programs. But it is also an open source, FREE, and inclusive learning environment where kids learn code, leadership, peer collaboration, computational thinking, and so much more. Parents join in the self-paced, interactive, and problem-solving fun!
WHAT KIND OF GAMES AND PROGRAMS CAN THEY LEARN TO MAKE?
Games for the web, games for PCs and Macs, games for XBox… Racing games, adventure games, puzzle games, guessing games… If your child has never never programmed before, they're not going to make MarioKart or Angry Birds on their first time out, but if they keep coming to CoderDojo, we'll help them get there.
And yes, if they are mature and focused enough to want to make the next Google, Amazon, or Facebook, we can help them learn to do that too.
If they are advanced beyond what's suggested in a CoderDojo and open to the guiding principles of the CoderDojo movement (not waiting for a mentor to teach or give them a more advanced lesson, able to self-lead and explore projects on their own, willing to help less advanced kids or even lead a session as mentor), chances are they will enjoy the experience more than someone more concerned with how far ahead they are than other kids. Try to help your child understand the philosophy so their expectations are managed.
WHAT DOES THIS COST?
NOTHING! West Sound CoderDojo is a volunteer organization with limited resources, so if you see a problem you can solve, please volunteer to solve it. It's a community effort!
IS THIS A CLASS?
Words like class and instructor don't really apply to the CoderDojo movement. This is mentor-facilitated learning. We provide tutorial suggestions for each level (beginnger, intermediate, advanced) but kids are free to work on whatever they want. Other kids help if a child gets stuck, or an adult mentor.
WHAT DO I NEED TO BRING?
Bring your age 7-18 child and a laptop running Windows, OSX (Mac), or Linux. You'll need to stay for the whole CoderDojo (no drop-offs). Your laptop should be able to connect to WiFi and have a battery that will last for 2 hours, but we do have some power strips to connect to outlets.
WHAT SOFTWARE DO I NEED?
If your child is brand new, they'll just need a web browser and a text editor. Every operating system (Windows, Mac, or Linux) comes with these installed. If your child will need additional software, our mentors can help you install it.
CAN MY CHILD BRING A FRIEND?
Of course! Register them with you as a Parent/Guardian and remember you have to remain on site.
WHAT IF I NEED TO CANCEL?
Search your inbox for your ticket, then click My Tickets in the upper right hand corner and go from there.  Cancellations via email don't reach us.
WHAT IF I DON'T CANCEL,  DON'T SHOW UP, OR KEEP CANCELLING AT THE LAST MINUTE?
Your kid will miss a great opportunity. Consider that volunteers are giving of their time to bring your child an exciting and FREE resource.
Have questions about West Sound CoderDojo: December 3 at Port of Allyn? Contact West Sound CoderDojo