Mailing Address:
PO Box 1, Allyn, WA 98524
Physical Address:
18560 E. State Route 3, Allyn, WA 98524
Phone: 360-275-2430 • Email: info [at] portofallyn [dot] com
Executive Director: Lary Coppola
Operations Manager: LeAnn Dennis
Security Officer: Travis Merrill
Maintenance: Don O'Keefe
---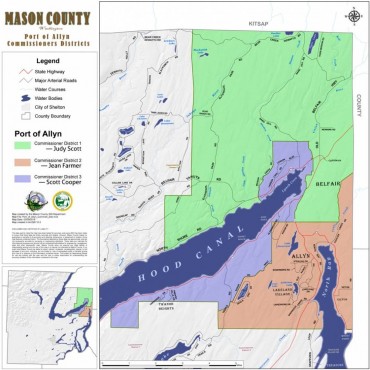 What is a Port District?
Port Districts are 'quasi governmental' agencies (like fire districts and park districts) which are formed by a vote of the residents in an area to tax themselves to promote and support economic development.
Why do they call them "ports" when some port districts don't even have a dock?
When port districts were first established to support economic development they were formed around docks because that was the center of commerce and trade. When roads, railroads, and airports were built providing other means of transporting goods and providing services their focus changed but the name stuck — thereafter any geographical area could be designated as a 'port' district by a vote of the people whether it was on a waterfront or not.
Why Port of Allyn?
In the late 1800's and through the early part of the 1900's all commerce, passenger traffic, supplies & mail came and went from the Allyn Dock. It was the commercial center of North Mason. When the Port was formed in 1921 Allyn was the center of economic development for the North Mason County area. (the district covers most of North Mason County) The town of Allyn was named after Judge Allyn from Tacoma who had been active and influential in the development of the area. After 88 years and numerous commissioners, many changes have taken place in the Port district but Commissioners have consistently chosen to honor Judge Allyn and the historic name.
What do Port Districts do?
Their primary function is to promote and support economic development. Ports can engage in almost any activity that provides jobs, supports local business, or facilitates economic growth and stability in their district. How each port does this depends on the particular port district. Some specialize in international trade (such as Seattle and Tacoma) others build business parks, and still others support local businesses by promoting tourism and providing recreational opportunities. Since tourism is the fastest growing industry in the world and Washington State has abundant opportunities for recreation nearly all ports engage in and/or support tourism in some way. With stringent limitations on growth and increasing environmental restrictions over 50 port districts in rural areas depend on tourism as their main resource for economic development.
---
Port Of Allyn Commissioners And Staff