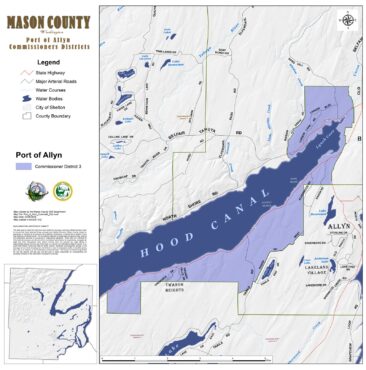 Notice is hereby given that the Port of Allyn Commissioners are seeking individuals interested in representing Port District 3 on the Port of Allyn Commission. To be eligible, a candidate must reside within the Port of Allyn's Commissioner District 3 boundaries, and be a registered voter in Mason County.
Interested individuals must submit an application, a resume, and a letter of interest to Lary Coppola, Executive Director of the Port of Allyn, in one of the three following ways:
IN PERSON at the Port of Allyn's Administrative Office at 18560 E. State Highway in Allyn;
BY U.S. MAIL at P.O. Box 1, Allyn, WA 98524
VIA EMAIL to lfc@portofallyn.com (please include "Port of Allyn District 3" in the subject line).
Submissions must be received by 4:00 p.m. Monday, April 5th, 2021.
A copy of the application packet and map showing the Port of Allyn's Commissioner District 3 boundaries is viewable on this page or arrangements can be made to pick a copy up at the Port's Administrative Office by calling (360) 275-2430.
This notice will be advertised March 11, 18, and 25, 2021.
Please download and read the following PDF documents if interested: