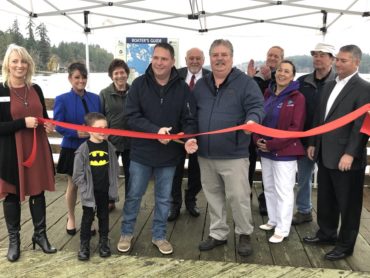 It was a great day for the Port of Allyn as it cut the ribbon on its new transient moorage facility. The ribbon cutting was a fun community event that was the culmination of almost two years of work to upgrade the existing dock to a full-service facility capable of handling boats up to 50 feet.
In attendance were Representative Dan Griffey — who cut the ribbon — and was the project's legislative point person, along with Representative Steve Tharinger, who heads the House Capital Budget Committee which funded the project.
Also in attendance were other dignitaries, contractors and people who worked on the project, and were recognized by Port Commission Chair Scott Cooper, along with a number of community members. A jovial reception after included refreshments and lively conversation.